Please click on the following to see an update for parents dated September 7, 2021:
https://5il.co/yl7e

Due to projected inclement weather, the Jr. High baseball game in Forrest vs. Pontiac St. Mary's at 4:30 has been canceled.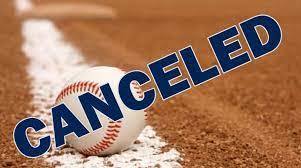 Cafe Jobs Open! We have Part time cafe workers needed at the High School and Elementary. Hours will vary. If you are interested please contact Susan Cavazos at 815-692-2115 or
scavazos@prairiecentral.org
.
Congratulations to PCHS August Athletes of the Month, Ella Compton and Isaiah Adams! #ItsAGreatDayToBeAHawk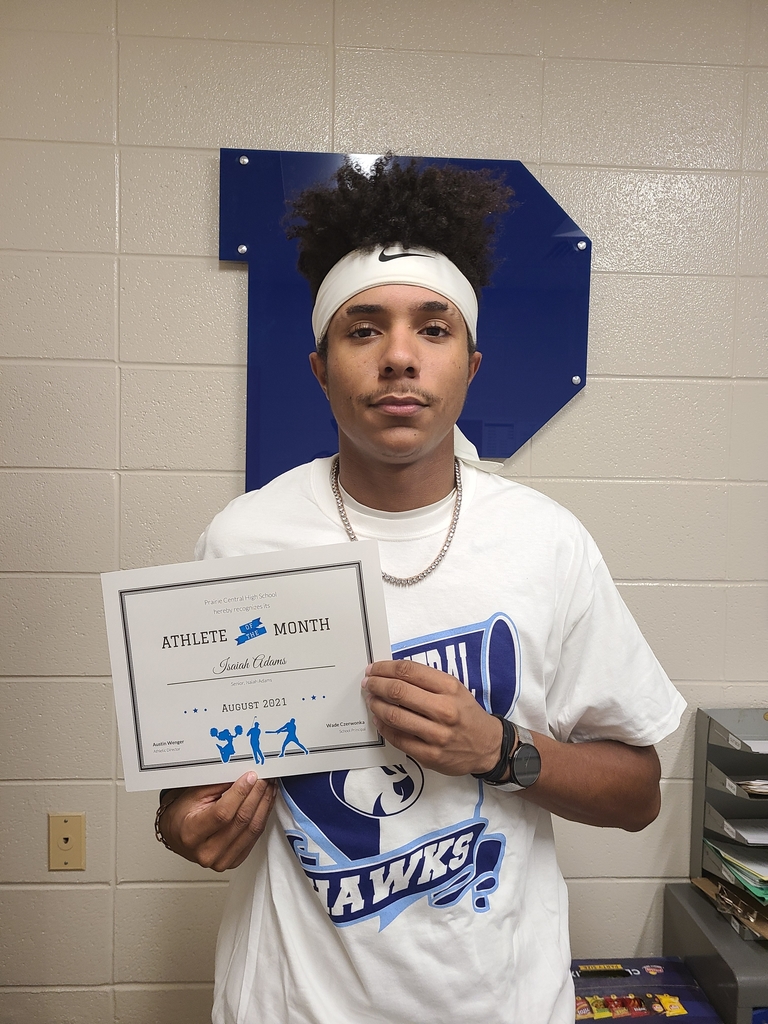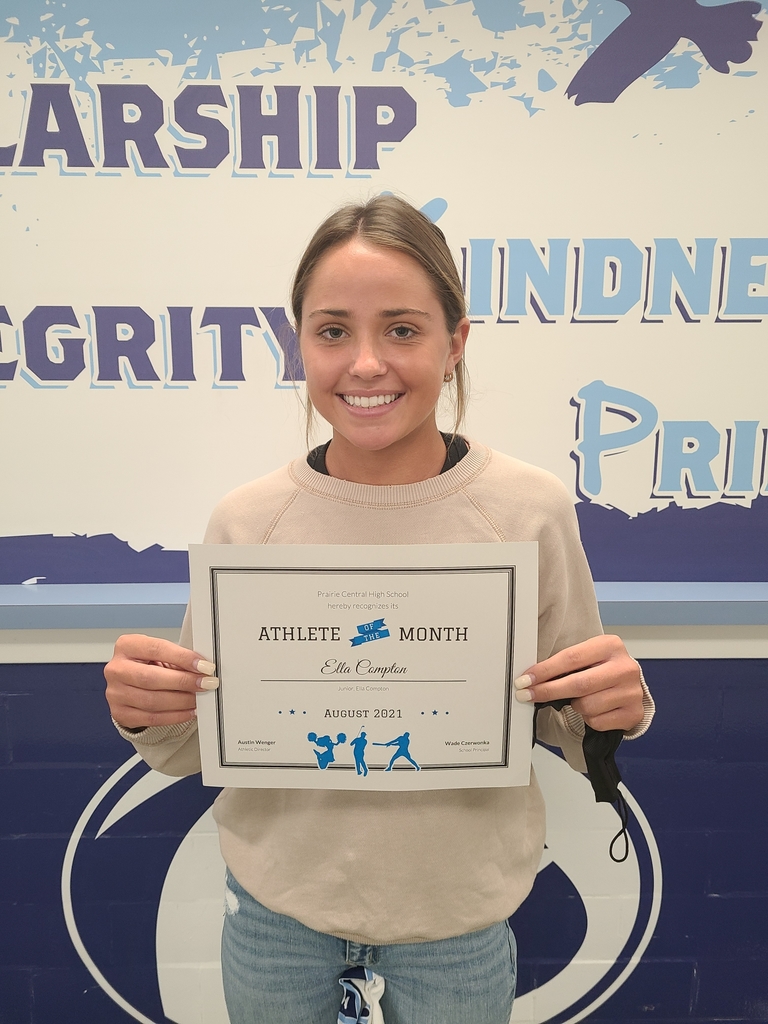 Prairie Central Schools will be on a regular dismissal schedule beginning next week (September 7th)! Enjoy the weekend. Go HAWKS!!
Friday, Sept. 3rd will be Senior Recognitions for PCHS football, cheer, band, and color guard. Parents should arrive by 6:30pm to line up at the west end of the track. Senior announcements will begin at 6:40pm. #ItsAGreatDayToBeAHawk

Preschool Screening forTuesday Sept - 14th and 15th! Appointment bookings start today! Call 815-945-2971!


PARENTS: At this time we are no longer allowing changes in bus pick-up or drop-off points for students. The only allowable change is an actual move by the parent and change of address. If requesting due to this, please bring proof of your new address to your child's school. Sorry for the inconvenience.
All home PCHS volleyball games will be live-streamed on the NFHS Network. #ItsAGreatDayToBeAHawk
PCHS Football and Volleyball Rosters.... #ItsAGreatDayToBeAHawk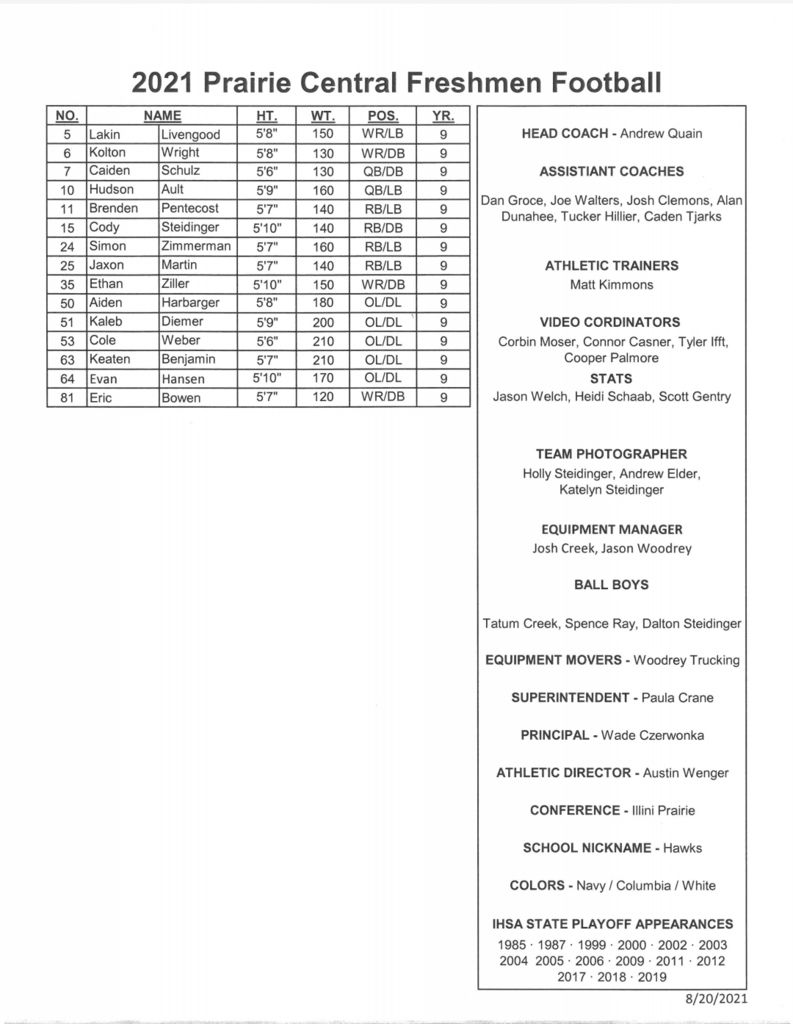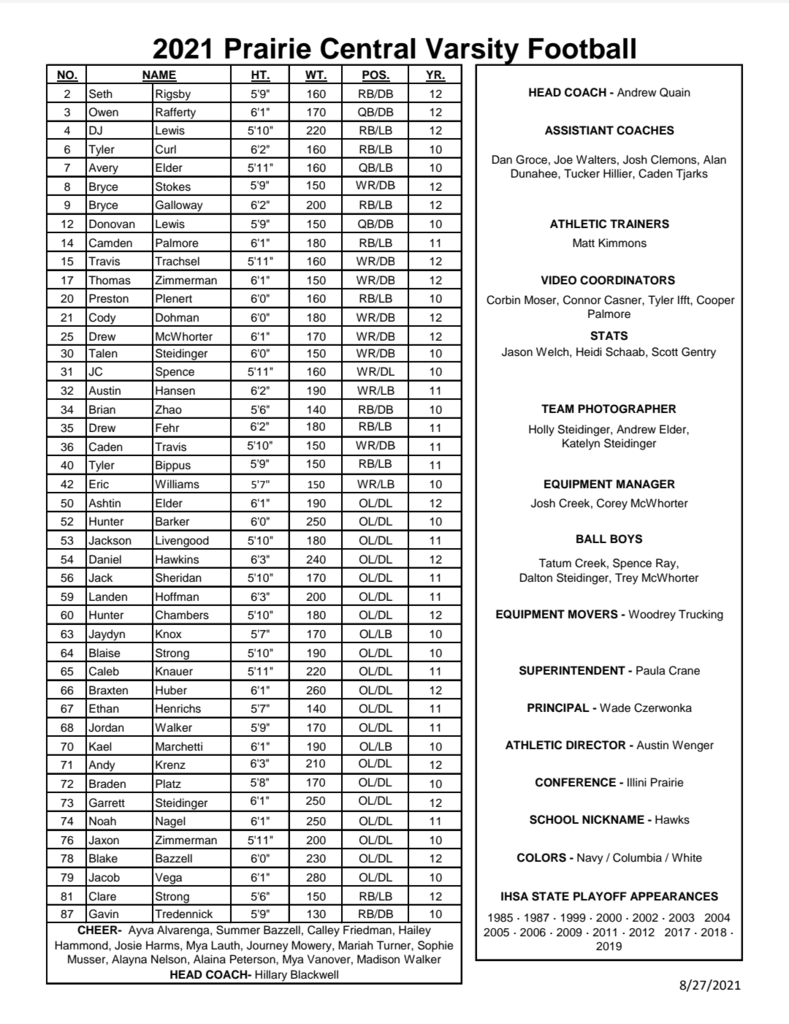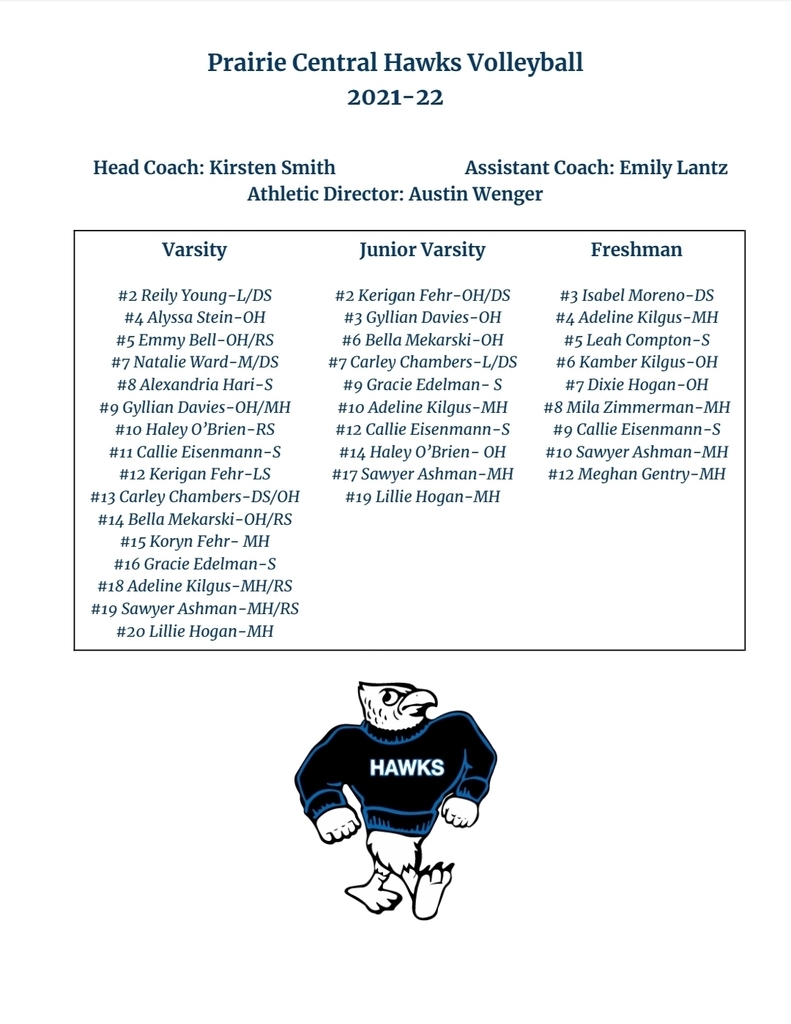 PCHS welcomes new Special Ed. teacher and baseball coach, Mr. Bachtold! #ItsAGreatDayToBeAHawk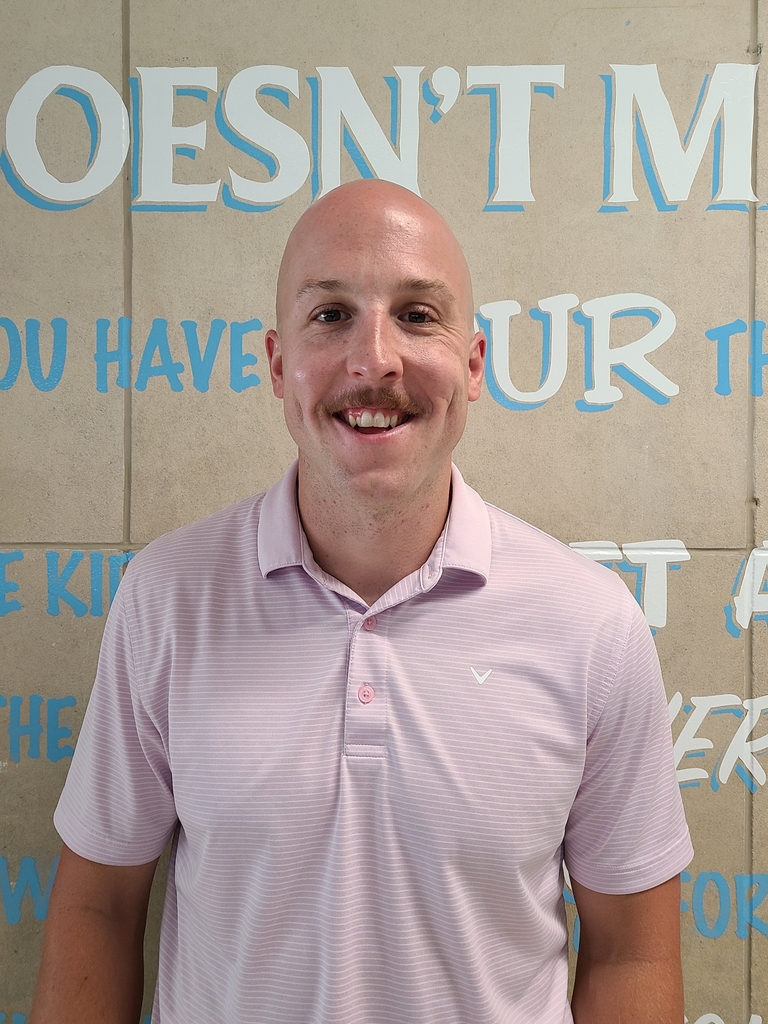 PCHS welcomes new Ag teacher, Mr. Stork! #ItsAGreatDayToBeAHawk
PCHS welcomes new Ag teacher, Mr. Hill! #ItsAGreatDayToBeAHawk
PCHS welcomes new PE teacher and volleyball coach, Mrs. Smith! #ItsAGreatDayToBeAHawk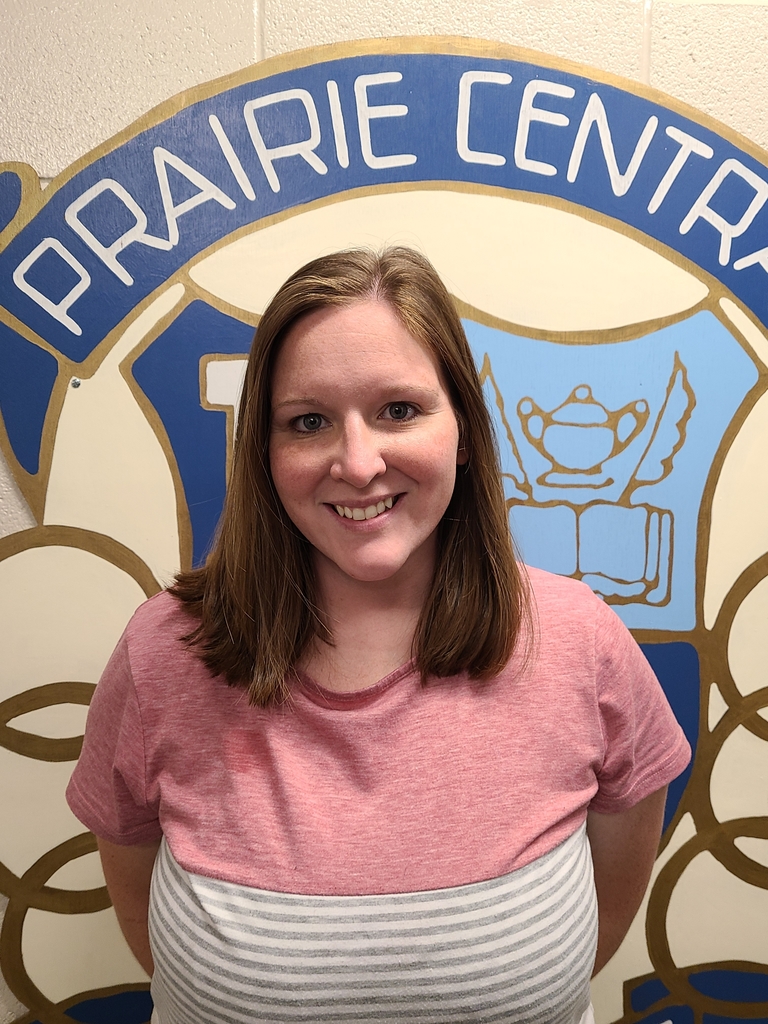 PCHS welcomes new Dean of Students, Mr. Steve! #ItsAGreatDayToBeAHawk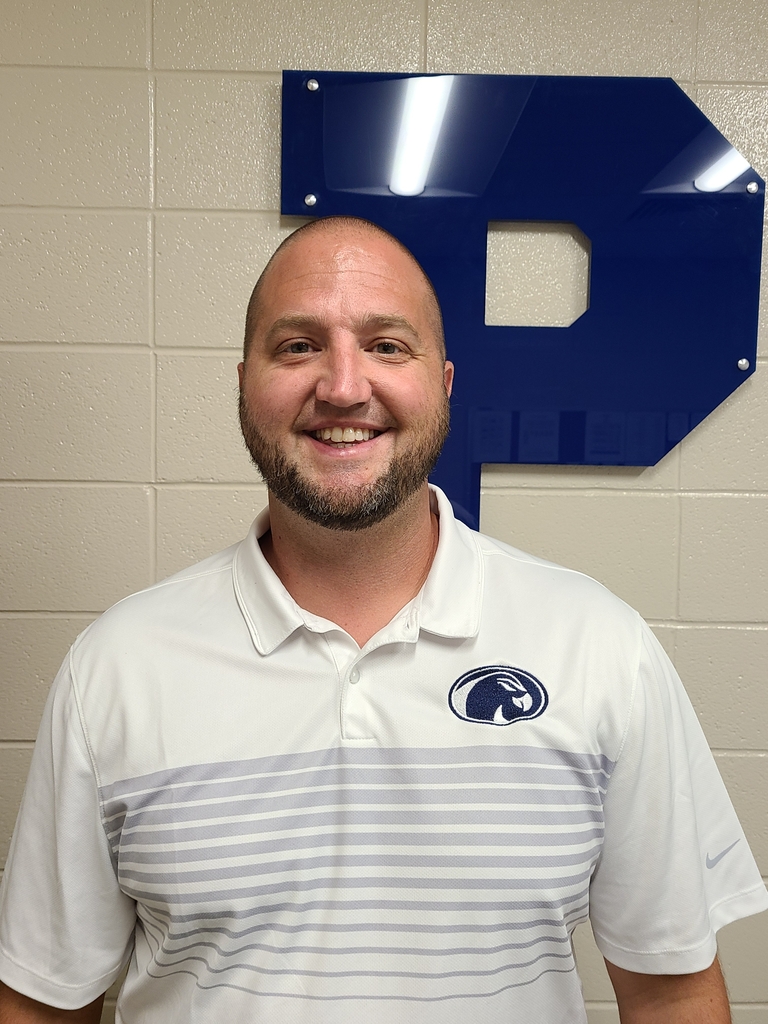 PCHS welcomes new Principal, Mr. Czerwonka! #ItsAGreatDayToBeAHawk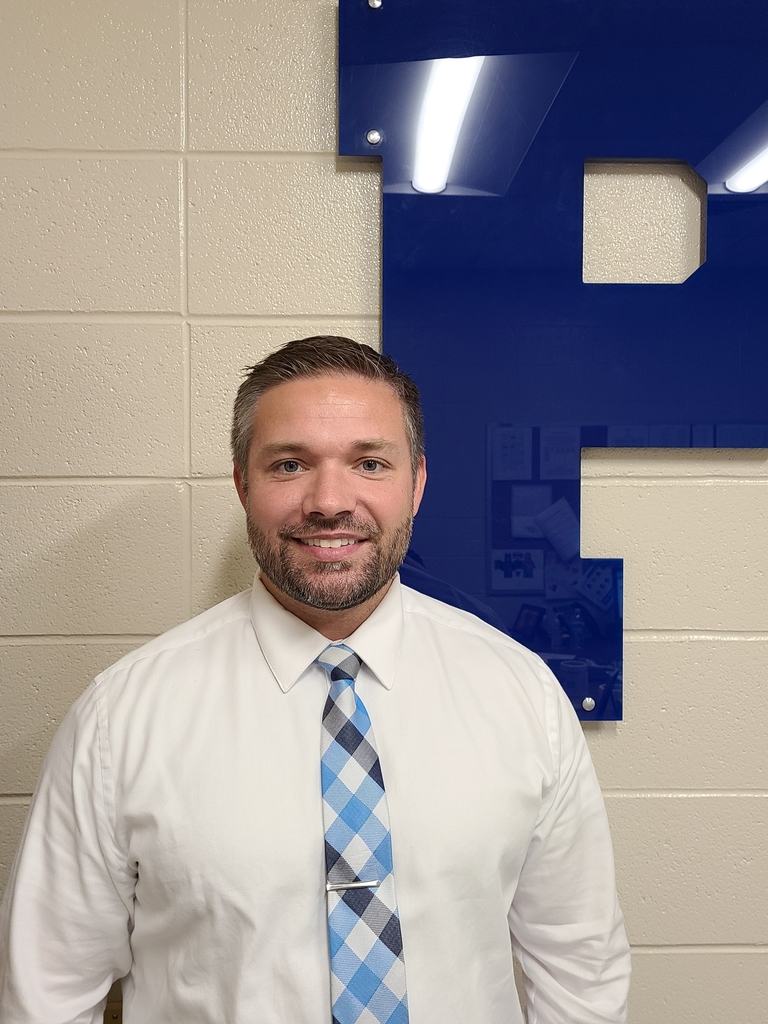 The Jr. High Girls Basketball coaches will be hosting open gyms on Monday, August 30th, Tuesday, August 31st and Thursday, September 2nd from 2:00-3:30 at the Jr.High. Any 7th and 8th grade girls interested in playing are welcome to attend. Information about the team can be picked up any time during school hours.

The Jr. High Softball game on August 31st vs. Corpus Christi has been canceled.
Hello PCE Families!- Beginning, Monday August 30th, if your student is a car pick-up student at the end of the day, we are asking that you put a sign in your passenger side window to allow staff to quickly and clearly see which student(s) are being picked up. This will help with the efficiency of the car pick-up line. Signs will be provided by your student's classroom teacher. If you have more than one student in the car pick-up line, please place a sign for each student. Signs will be on colored paper with your student's first and last name in big bold letters. If you have any questions or concerns, please don't hesitate to reach out to your child's teacher or the PCE office. Thank you.